ドラゴンボート・レース
... Dragon Boat racing
July 23rd and 24th had Dragon Boat racing at Kal Beach on Kalamalka Lake.
七月 23日 と 24日 に カラマルカ湖 の カル・ビーチ で ドラゴン・ボート・レース が 開催 された。
Hi-chi-ga-tu 23-ni-chi to 24-ka ni Kalamalka-ko no Kal Beach de Dragon Boat race ga ka-i-sa-i-sa-re-ta.
Teams from the Okanagan and beyond were in attendance.
オカナーゲン地方 から の チーム は もちろん 遠距離 から の チーム も 参加 している。
Okanagan chi-ho ka-ra no team ha mo-chi-ron en-kyo-ri ka-ra no team mo san-ka shi-te-i-ru.
 
For all, the weather was perfect.
Summer is indeed in full swing here in the Okanagan region.
かいつまんでいうと、完璧 な 天候 だった。
ここ オカナーゲン 地方 の 夏 は まったく 文句 の つけようがない。
Ki-tu-man-de-yu-to, kan-pe-ki na ten-kou da-tta.
Ko-ko Okanagan chi-ho no na-tu-ha ma-tta-ku mon-ku no-tu-ke-yo-ga-nai.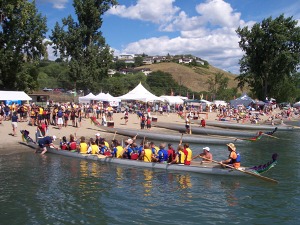 Dragon Boat getting ready for action at Kal Beach.
カル・ビーチ では ドラゴン・ボート・レース の 準備 が 整った。
Kal Beach de-ha Dragon Boat race no jun-bi ga to-to-no-tta.

I think we have a winner …
勝者 は 決まった。
Syo-sya ha ki-ma-tta.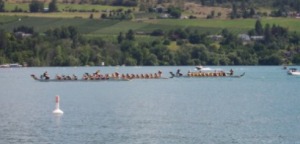 スポンサードリンク