Welcome ... Yo-ko-so
Canada ka-ra Kon-ni-chi-wa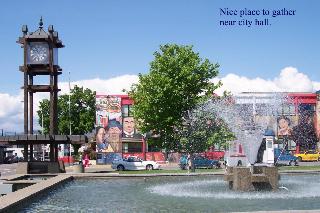 Welcome .. Konichiwa From Canada
ようこそ ... カナダ から こんにちわ
Yo-o-ko-so ... Canada ka-ra Kon-ni-chi-wa
Welcome to our website!
わたしたち の サイト に ようこそ
Wa-ta-shi-ta-chi no sa-i-to ni yo-o-ko-so
We will not only help improve your English skills,
but will share with you life in our local neighbourhood,
our valley, and our province.
この サイト では、英語 の スキル 上達 を 援助する と ともに、 私たちの住む地方とか、オカナーゲン、ブリテッシュ・コロンビア の ライフ を 紹介 します。
Ko-no site de-ha e-i-go no skill jo-ta-tu wo en-jo-su-ru to to-mo-ni
wa-ta-shi-ta-chi no su-mu chi-ho to-ka, Okanagan,
British Colombia no life wo syo-ka-i shi-ma-su.
Also featured will be information on the many seasonal attractions and events
that make this area unique.
さらに この 地方 の ユニーク な シーズン毎 の いろいろな アトラクション や 行事 など の インフォーメション を お送りする 予定です。
Sa-ra-ni ko-no chi-ho no unique na season-go-to no i-ro-i-ro-na attraction ya gyo-ji na-do no information wo o-o-ku-ri-su-ru yo-te-i-de-su.
If you decide to visit the Okanagan we can direct you to accomodation, and answer any questions you may have.
もし、オカナーゲン に くる 際には、宿泊設備 など、 その他、何なりと ご質問 ください。
Mo-shi Okanagan ni ku-ru sa-i-ni-ha syu-ku-ha-ku-se-tu-bi na-do, so-no-ta na-n-na-ri to go-shi-tu-mo-n ku-da-sa-i.
Please come back often and get to know us.
どうぞ いつでも この サイト に お立ち寄りください。 そして、お知り合い に なりましょう。
Dou-zo i-tu-de-mo ko-no site ni o-ta-chi-yo-ri-ku-da-sa-i. so-shi-te o-shi-ri-a-i ni na-ri-ma-syo-u.
Contact us ..... ahmcanada (Shikou)

スポンサードリンク